How to Make Your Boyfriend Happy
Constantly working on how to make your boyfriend happy is vital to ensuring he remains connected to you. However, many relationships begin to veer off in different directions, tearing people apart. Life often creates challenges that drive a wedge between many couples, forcing them to become distant and disconnected.
Your boyfriend might spend time showering you with attention and compliments but have you made an effort to repay him and show him your feelings? How to make your husband happy? It is easier than you might think. Follow the tips below, and you're certain to make your boyfriend happy.
Compliments Are How to Make Your Man Want You More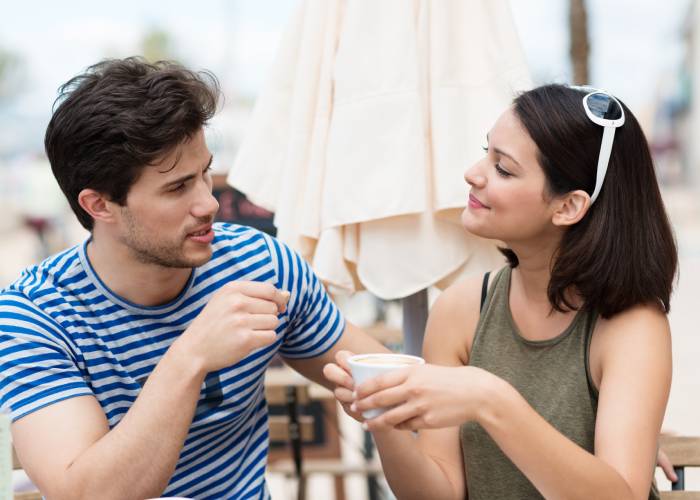 There's a misconception that only females should be informed that they look great and beautiful. It's a common expectation that compliments only go one way because tradition has taught us to be that way.
Women tend to believe that guys are always satisfied with their appearance and appeal, unlike women. Men are not supposed to worry about how they look or how they smell, are they?
In reality, that's complete nonsense. Guys are more sensitive than you might realize, and what's more, they care about how you feel. Therefore, the answer to your thought about how to make your man want you more and how to make your boyfriend happy is to take every opportunity to tell him how you feel about his appearance, mind, and image. Give him the chance to experience how you feel every time he tells you how stunning you are.
Don't forget to share your feelings whenever they appear. Make him feel special - explore compliments about his looks, tell him how stunning he looks in his new jeans, and let him know how hot he makes you feel.
Appreciation is How to Make Your Husband Happy
Appreciation leaves people feeling satisfied and wanted. Therefore, informing your partner of your appreciation for everything he does is important and a huge step in how to make your husband happy. Whether it's work or the jobs he completes around the home, he does everything for you. Of course, on certain days, the idea of getting up and heading off to work fills him with dread, but he still does it. He doesn't pack in his job because of you and the desire to provide for you.
The responsibility of providing for people is massive, especially for a wife and children. Furthermore, society often dictates that guys shoulder the pressure of earning more money. Despite this, earning money is connected with their societal value, so if you think that the answer on how to make your boyfriend happy is making him sit home and doing everything yourself – it won't work. This doesn't sound appealing, making it especially important to appreciate the pressure that guys handle.
Should your husband/boyfriend opt to work from home, he's making sacrifices on another level and the question how to make your husband happy becomes even more crucial. While he embraces working at home and sharing parental responsibilities, often the difficulties and challenges of caring for children can leave people feeling lost. However, your man continues to battle through his adversities and difficulties because they feel it's their duty.
The simple thing about how to make your bf smile is how easy it becomes to inform him that you appreciate him. Whether it's something small such as watering the lawn or earning a wage to ensure you can enjoy the finer things in life, acknowledge his efforts. Many aspects of society assume that guys should be dealing with this pressure without any thanks or appreciation. Therefore, don't take him for granted but instead, let him know that you love your man. Simple "I love my man" in his presence will mean everything to him, and it is a great way on how to make your boyfriend happy.
Bedroom Fun - That's How to Make a Man Want You More
Sure, he's probably not some sexual powerhouse, but he's always looking to please you; remember that when you're thinking about how to make your boyfriend happy. Often, the most enjoyable sex isn't about his sexual abilities but about being connected and passionate. Therefore, work hard to keep sex something special between you both; if it stays special, it'll make your man want you more. Put in an effort in your appearance and makeup before going to bed, and he'll bring the goods. That way, you'll make your man want you more, and you'll discover a completely new level of bedroom passion because he feels wanted and needed. It's a simple change, but it's proven to work, make a difference and you'll see how to make your husband happy.
Sex isn't something that a partner has to give, but creating that need will ensure that your relationship becomes stronger and healthier as you'll be saying "I love my man" with how you look – a great way to keep your relationship strong and giving an answer to how to make your boyfriend happy. Sometimes, the home environment leaves men and women struggling to relax and explore their sexual needs. When this occurs, escape the four walls of home and book a night in a hotel. Sure, that costs money, but it'll make your man want you more! Looking for a budget (and slightly sexier option) to show your man you love him? Why not try a camping break? Any opportunity to be alone together guarantees to heighten excitement and increase fun too – this is how to make your husband happy! At home, set the tone by teasing your partner and building the tension. Whether that's talking or delving into the online world to discover new content, get creative, and things will happen, you will both see how to make your boyfriend happy and discover the surge to become playful and happy yourself.
Looking to drive your boyfriend or husband wild? Make steamy snaps of yourself in gorgeous lingerie – receiving those shots while he's at the office are certain to work and make your boyfriend happy. Perhaps some teasing shots will leave him wanting more? Show him your underwear or a bra strap and leave his mind working overtime. Men are visually driven, so once he views your images, he's definitely wanting more.
The goal to succeed here is to manage your passion for him. Choose to think about him, consider those special moments you've spent together, even think about a part of his body that you find irresistible. Eventually, you'll be bursting with passion, giving you the opportunity to dive into him once you get together again.
How to Tell Your Boyfriend You Love Him? Support Him!
As a couple, spending time together feels natural but spending every waking minute together isn't the wisest of ideas, and it won't be an answer on how to make your husband happy. Despite this, letting him go and supporting him when spending time alone can prove difficult. Whether he's meeting friends, enjoying a hobby, or simply chilling at home, letting him go is difficult. With work preventing you from seeing each other through the week, you'll feel as though you're being kicked into touch.
Placing this pressure on your partner can be unfair and uncalled for. However, managing time and understanding the importance of time alone can work wonders. What's more, consider how supportive he's been while you head for the gym or simply spend time doing things you love.
You should consider being apart as a positive in your relationship unless he's more focused on spending time alone. If timing is a concern, then ask him when he'll return and then arrange plans for that time together to mutually agree on how to make your boyfriend happy. Spending time apart creates new opportunities to chat about new things. Furthermore, if he's spending time exercising or enjoying yoga, then consider the fact that he's doing these things to feel better, and that will enhance your relationship.
So, when he announces he's planned to do something, nod, and smile. Give him a hug, share a kiss, and send him on his way. This way, he'll feel supported, wanted, and needed in equal measures.
Leave Your Phone Alone and Begin Taking Care of Your Man
Our phones have become integral to our lives. From browsing the latest news to chatting with friends or checking out work emails, we live our lives through our smartphones. There's always a reason to pick up that phone, but that shouldn't be the case. Make a point of leaving your phone alone and focus on the guy sitting opposite you – this is crucial in how to make your husband happy
Taking this approach proves challenging for many, although breaking the cycle proves easier than you might realize. Consider what would happen when you leave your phone alone. The world won't cave in around you. Obviously, a true emergency won't become a problem, but picking your phone up for every message will annoy him.
Put your phone somewhere where it's unreachable and place a focus on your guy if you want to tell him you're concerned with how to make your boyfriend happy. Look at his face, feel the love you share and understand how much commitment he gives to you. That alone should inspire you to realize the importance of not having your head buried in your phone.
Make an agreement to inform your partner when you need to pick up your phone in an emergency. Something like "the boss is calling" or "my mother is calling" are enough reasons to step out, take the call and then return back to your conversation.
Embrace the moments you share together to finally succeeding in how to make your boyfriend happy. They won't last forever, yet that funny image your friend sent you will be there in a few hours' time. Time passes by at a rapid rate, so it doesn't make sense to spend that time glaring at a phone screen
Treating Him is What Makes a Man Happy
Understanding how to make your boyfriend happy is key to relationship happiness. Whenever you make the decision to treat yourself, make sure you treat him too. Grabbing some donuts? Get your man some. Grabbing a quick coffee? Get him one too. This advice might be simple, but it's extremely powerful, so don't overlook it!
Whether you're out making purchases for the kids or yourself, always stop and think about what you can pick up for your man and how to make your husband happy. Whether it's a t-shirt or a new cap or even some sweet-smelling deodorant that you love, he'll really value this gift.
Forget about the monetary value of your gift but the thought and consideration instead. It'll show him that you're thinking about him and want to treat him. He will feel wanted and appreciated, which counts for a lot.
It takes nothing to ask your guy if he wants something while you're out grabbing that coffee. However, don't underestimate the impact this has on your relationship, as it will bring you an insight on how to make your boyfriend happy.
How to Make a Man Feel Appreciated? Eye Contact!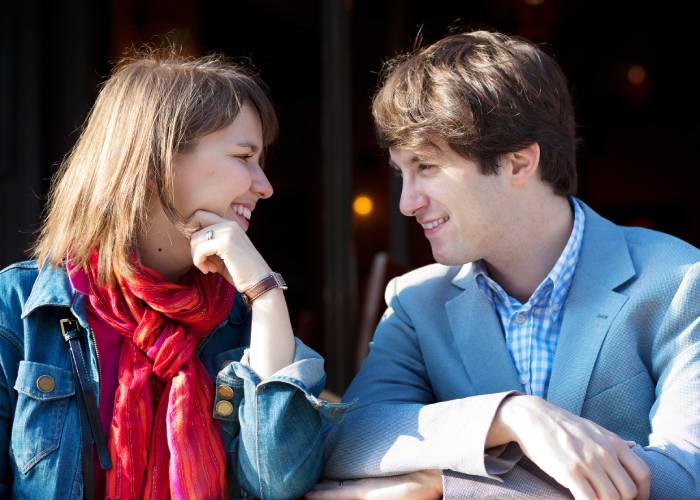 Your goal on how to make your boyfriend happy involves doing everything possible to make him feel special. Being together physically doesn't always involve getting touchy-feely. You can make him feel good and happy by taking time to make eye contact with him. This isn't about a creepy stare but more about making a quick connection with the eyes and leaving him wanting more. He'll wonder what you're thinking and whether the look meant something.
If you've ever wondered how to make a guy feel good and how to make your boyfriend happy, then making a deep connection will be on his list of priorities. Perhaps the idea of looking into his eyes leaves you feeling uncomfortable but forget about that. Gaze into his eyes for a few seconds while smiling playfully. This approach is flirty and sassy, but it's one of the most rewarding ways of how to make your boyfriend happy. Making him feel special goes a long way, and all it takes is one look.
It couldn't be easier. Simply lock eyes, give your boyfriend or a husband a smile and look away. It'll drive him wild.
Have Sex - It's How to Make a Man Feel Loved in Bed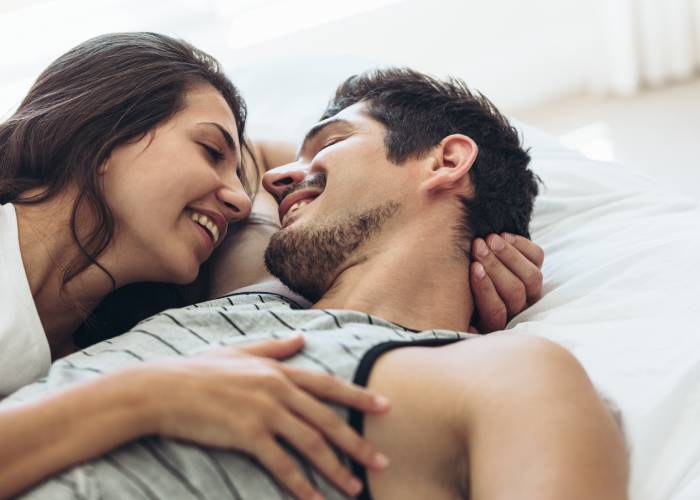 Too often, sex takes a back seat because life takes over. However, guys think about sex regularly, and it's probably the most rewarding way to keep them happy, and yes, your boyfriend and husband too. It's not the only way of how to keep a boyfriend and how to make your boyfriend happy, but it'll really make him closer to you.
You'll get even more love from your boyfriend if you make the experience exciting and interesting. Think about variety and exploring new things to understand how to make your boyfriend happy in and out of bed. Change into different lingerie, fulfill some of his fantasies and make it all about him – it's the perfect way to make your boyfriend feel happy. From new positions to sex games, anything that injects passion and desire will leave him feeling exhilarated.
Don't overlook variety because things can become stale quite quickly in the bedroom. Keep things exciting, and he'll always have eyes for you, meaning you found your answer. However, remembering that guys are eager for you to be invested in this sexual adventure is vital. They want every inch of you living for the moment and enjoying this passionate connection. With enthusiasm and vigor, you'll drive him crazy, and that's a fact.
Giving a guy everything his heart desires in the bedroom will leave you with a guy who's feeling extremely happy. Sure, sex isn't everything, but it's one part of the equation. The reality is that guys have a short attention span. He might not consider being supportive as important as having sex, so it pays to invest in his needs because once that wanes, he'll begin to place his interest in other areas.
How to Make a Man Happy in a Relationship - Give Him Space
Smothering your guy and leaving him feeling suffocated won't earn you points, as it's not one of the things that make men happy. Spending valuable time together is vital but being together isn't something that's always possible. Therefore, think about his feelings every time you're scrambling to be with him.
Many women force guys to feel guilty about not spending every waking minute together. This isn't fair, but it's especially common in new relationships, which isn't a healthy beginning. That space he requires is needed for a reason. Respect your boyfriend, his needs, and avoid forcing yourself on him because that'll push him away.
Don't be offended, but instead, take the initiative and open the door to him spending time alone. He's likely to feel guilty about asking, so keep him interested by genuinely enabling him to explore his freedom on his own terms, as it is one of the best ways to make your boyfriend happy.
Make Him Feel Special by Recognizing Your Differences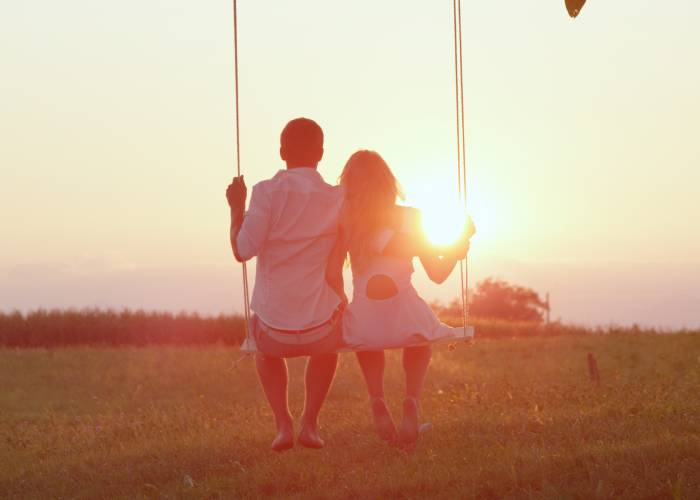 The real connection in any relationship revolves around differences. If you shared no differences, then there's every possibility you wouldn't be together. Therefore, forcing him to sit through movies he dislikes or moaning when he forgets the names of friends shouldn't be part of the relationship set up.
Remember the differences between each other brought you together. These differences are positive, and it's important to recognize them because many people fail to. Therefore, they focus on changing their partner, so they are similar to them. Many women often attempt to change how their boyfriends and husbands think, forcing them to respond similarly to women instead of simply saying I love my man and leaving him to do his own thing. Changing their thought process and opinions are damaging to them and the relationship.
In contrast, stop considering the differences as a problem and embrace them instead. When you do this, he'll feel extremely satisfied to call you his partner, which also works on how to make your husband happy. Your boyfriend will experience more happiness because he's free to explore his own mind and personality without worrying about becoming something you want him to be. By accepting these differences and understanding who your boyfriend is, you'll also build trust and find a solution on how to make your boyfriend happy.
How to Make Your Husband Happy? Get Things Right
Every relationship is based on ensuring your guy is happy, appreciated, and loved. Taking time to ensure he feels satisfied will leave him reciprocating your actions. Kindness is crucial, and studies have discovered that a happy relationship is based on kindness.
The list of things above about how to make your boyfriend happy all plays a crucial role in helping to keep your man feeling good. However, they're not all possible, and some might be used more than others. Spending time focus on introducing some of these ideas will ensure you give your relationship the best chance of flourishing. Getting to know all about your boyfriend or husband and exploring his needs will keep him engaged and wanted; it will be another way of saying, "I love my man," and great insight on how to make your husband happy.
Guys aren't happy to float through a relationship with no connection. They're different from females, but that doesn't mean that they're forgiving and accepting when relationships become mundane. Therefore, making an effort to enhance your relationship and explore something special together will certainly leave your boyfriend feeling unique and loved – this is how to make your boyfriend happy.

I am a part computer algorithm, part real relationship expert, who can give advice on everything regarding relationships.
Join Now
Sign up for free!
By clicking the submit button above you expressly consent to our
Privacy policy
including use of profiling to find you matches and you agree to our
Terms of use
, and to receive newsletters, account updates, offers sent by
Cupid