7 Different Ways to Kiss for a Passionate Lover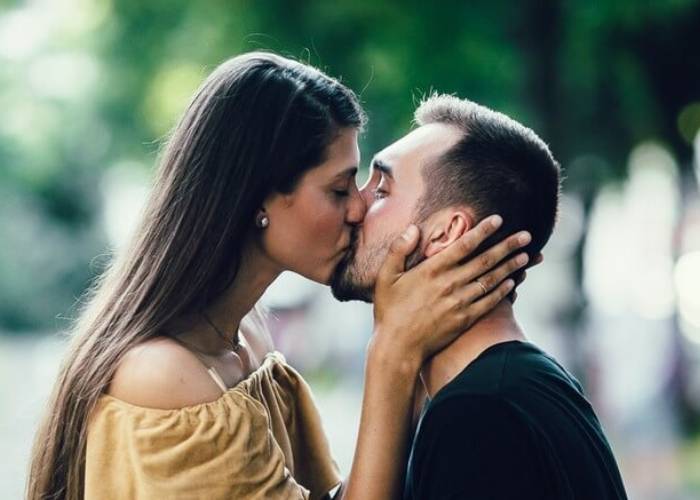 Kisses are not only used for pleasure, but they create a particular language of love. Most of us can think of just types of them. However, in reality, there are at least a dozen of them out there. Let's take a look at the major ones.
A guide on kissing and touching body parts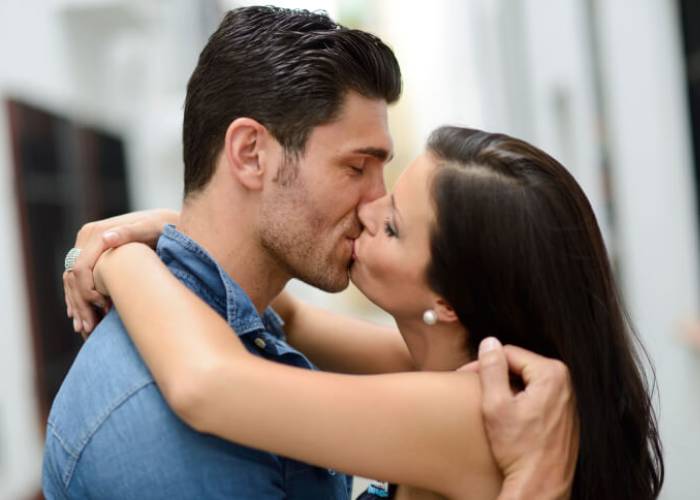 Kissing can communicate the full range of emotions you have for another person. Some kisses are innocent (a kiss on a brow or cheek), while others are full of passion and desire. These tips on kissing will enrich your love life.
Tickling kiss
The best spot on her body to use this type is the neck. How do you kiss a woman's neck? Use your lips and your eyelashes, too. First, start with the very "tips" of your lips. These kisses are gentle and tantalizing, so to say. At first, lightly touch her neck with your lips. You may start from her lips and go down. Then use your eyelashes to tickle her neck and sort of "kiss" it with the eyes. Such kisses are very romantic and teasing.
Triangle kiss
Here is what you do: you start as usual on the lips. Stay there for a short while, but then move away to your partner's cheek and go down to their neck in a few more moments. And then return to the lips once again. You sort of move in a triangle area of their body. You can a bit enlarge this triangle the next time you go down and get to the chest or breast area!
French kiss
Yes, this is the famous one! People also call it the tongue kiss. This one takes much practice. Many women complain that men are poor tongue kissers. Some try to eat you alive, others use too much saliva, and it feels like kissing a dog. So, how do you do it the right way? Go to the nearby bakery and get a muffin with soft chocolate or cream topping. Why the heck do you need it? Well, it's your perfect kissing trainer. Take it in your hand and stand in front of a mirror. Now start "kissing" the soft topping on the cake or muffin first with your lips and then with your tongue, too. And watch the results. If you are getting much of the chocolate on your lips and even face, you are doing French kisses the wrong way. You get your tongue and lips all over her, and the chances are she dislikes it. Keep on training until you learn to use the tongue so that no topping gets on your face or lips!
Passion kiss
This one is not for the first date. However, when you two are comfortable with each other, you can try it. First, grab your girlfriend by her waist firmly. Use the other hand to put it on the back of her head and press her face closer to yours. Then kiss her on the mouth with no way to escape. Let her feel your strong arms; move the upper hand down to her back and move the lips down to her chest area, pressing hard and passionate kisses there.
Teeth kiss
If you know how to use your teeth on her lips and other body parts correctly, you can take your kissing to the next level of passion. However, there is a wrong way of doing it, so be careful! First, you can GENTLY bite her lips or press your teeth against hers. However, no weird sound such as teeth grinding should be heard! Gently is the keyword here! You can also use the teeth while kissing her breast or ears. Bite on them and press harder with your lips.
Sucking kiss
Start with her lips first. You may take one or both of them into your lips and suck. You can suck her ears and other body parts as well. These kisses are very passionate and hot. Do not use them unless you have the time and place to go for more!
Eskimo kiss
This one does not involve using the lips at all. You use your nose instead and rub it against hers. You can also find her "cat spots" on the neck or back and rub your nose there. It evokes very pleasant sensations.
Now when you know the 7 types of excellent kisses, you should use them. However, there are kisses girls hate. Get armed with this information to avoid making mistakes and being a lousy kisser.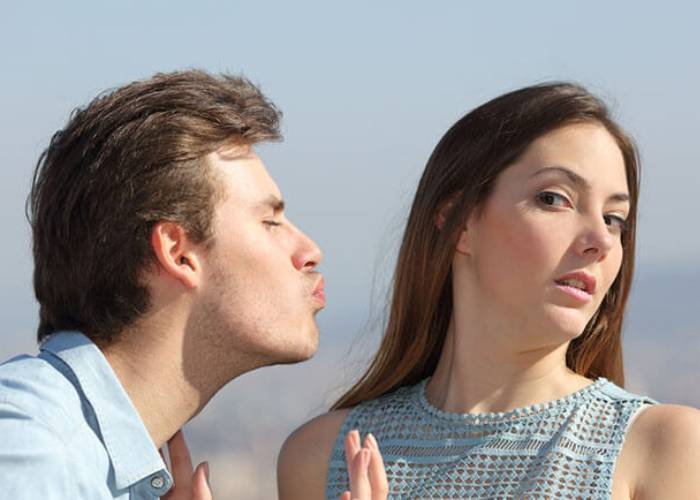 This might be good for the first or second date. However, if a guy does nothing but pecking, it is aggravating. A woman is ready for more, but he quickly presses his lips to hers and pulls away. Stop it! Linger there. Use your tongue or lips to show passion. Some men do it just because they are not sure they can kiss well with the tongue. Forget about your worries and just go for it.
Using your tongue the wrong way. Instead of gently moving it inside her mouth, you lick her lips and cheeks just like a silly puppy. Your saliva gets all over her. Such kisses are no good, especially if you are somewhere out and she wears makeup.
You decided to do the French kiss, but the wrong way. You start inserting your tongue in and pulling it out like that snake or a lizard. These quick motions create a funny and awkward feeling. You are not an X-man. So, stop it and get some muffins with the topping!
These tips on kissing her lips, hands, neck, and other parts of the body will help you to become the best lover ever! Get some practice, and do not forget to ask your girl what she loves the best!
Kisses After Petting: Important or Not? Answer Is Here!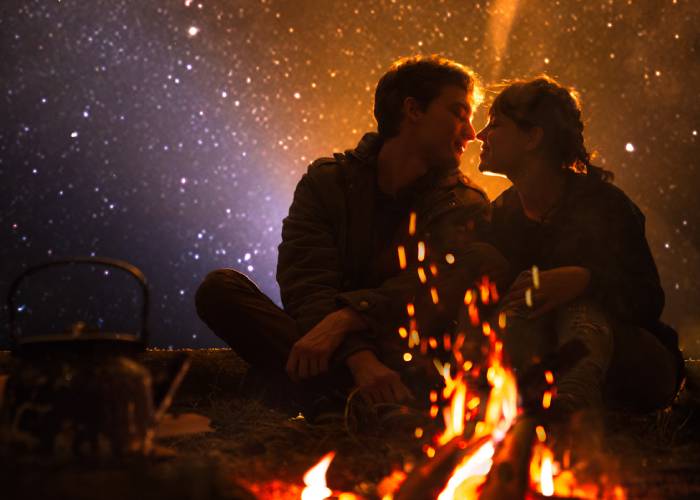 Until recently, petting was condemned by certain groups of people who believed that it humiliated another person. Over time, the stereotype has practically sunk into oblivion, but the question remains: how important and necessary is kissing after petting?
Perception of Petting
There is an opinion that petting is no lovemaking at all. The pragmatists who consider sexual intercourse exclusively penetration do not understand why this kind of caress is needed. Things are a little different:
Oral stimulation increases the level of trust between partners. Not every person will be allowed to do this. If the partner agreed to engage in petting, the other person would be pleased because this is how the attitude is manifested. Simultaneously, the refusal is unpleasant not because today someone does not finish, but because of the body's disgust.
Petting can be more enjoyable than lovemaking. The process also involves manual caresses, various lubricants, and toys.
Petting keeps the partner in a good mood. Positive emotions and hormones that are released during enjoyment contribute to stress relief and relaxation. Not every time a loved one is in the mood to have lovemaking to the fullest.
There are many reasons: stress, fatigue, worries. In this case, it is better to resort to petting because the partner may not be aroused enough for lovemaking due to extraneous thoughts. Besides, such "intense" lovemaking will not bring pleasure and will be even more stressful for the body.
Petting is a great way to please your partner. Of course, when engaging in lovemaking, this is also possible, but in this case, it is easy to direct all forces to the satisfaction of a loved one. When engaging in other types of lovemaking (particularly petting in position 69), it is difficult to concentrate solely on the partner's pleasure. In this way, you can show the full range of feelings and trust.
The role in relationships is significant, but what about kissing after petting? Is it possible to have petting before kissing and how safe is it?
Pros And Cons
Kissing after petting is like swallowing a spore. Let's simulate the situation: a girl does a frenching, the "X" moment is approaching, and after discharge, the chosen one turns away with disgust and leaves the man alone with the result. Agree. It would be unpleasant. Such actions show disgust.
Adds spice: This gesture is a good ending. This will awaken passion in your partner and lift your spirits. It would be unpleasant if the loved one just finished and began to dress melancholy.
Hint to Continue: This action can arouse your partner more, leading to intimacy. This is a great opportunity to relax and prepare him, add variety to the relationship, and try something new. It is unnecessary to show attention like this every time, but it will benefit your life from time to time.
Presence of bacteria: After petting, a large number of bacteria accumulate in the mouth. If a person observes the rules of hygiene, there is practically no danger. It is important to have petting with a trusted partner or use protection because many infections are transmitted during petting:
Genital herpes
Syphilis
Gonorrhea
Hepatitis (A, B, C)
Condylomas
Chlamydia
HIV
The last four diseases are transmitted in this way rather rarely, but the probability of an undesirable outcome exists. So, do not forget about the "mushroom" flora - thrush after petting is a fairly common occurrence.
Aesthetic Side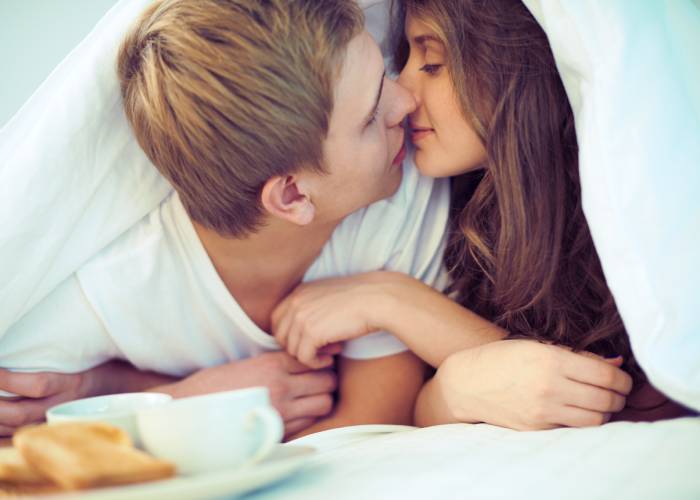 Each person has his own morality and vision of the situation. Some people consider petting to be unsanitary and unaesthetic, based on their own tastes and worldview.
Therefore, it can be concluded that kissing after petting is more preferred than a common gesture. Weighed the pros and cons, it should be borne in mind that every fetish has a right to exist if both partners enjoy the process. Does it matter? Such a question should be asked to a loved one to determine his opinion and make a general decision. Regardless of whether someone likes the gesture or not, the main aspect of any lovemaking is safety. It is important to take care of your partner's health and not attack, wanting to receive a kiss. Preparing for this is an important step. You may need to purchase protection. Otherwise, an unpleasant rejection may sound.
What is the Best Protection for Petting to Buy?
Many diseases of the reproductive system are transmitted through petting more easily than other routes. Of course, it is safer than unprotected intercourse, but it is important to protect yourself even if the percentage of infection is small. As in the classic version, contraceptives come to the rescue, but there is an important caveat: which contraceptives for petting are more suitable?
How to Make a Choice?
For protection during petting, classic sheaths with different tastes are often used. There is a huge assortment from fruits to chocolate or cream. But special sheaths are somewhat different:
there is practically no lubrication
ultrafine
Both options are almost completely capable of protecting a person from unwanted sexual infection. Some recommendations will make the process not only secure but also enjoyable:
Prefer polyurethane sheaths. Latex can cause allergies in some people, so this material is the best option. It adheres tightly to the skin, which contributes to greater sensitivity and insight. Unlike latex, polyurethane practically does not have an unpleasant taste and smell;
If you prefer classic contraceptives rather than specialized ones, you should take care of choosing ultra-thin ones. Thus, the sensations will not differ significantly from petting without a sheath.
When buying conventional sheaths, you need to pay attention to the lubricant, and it should be absent. For convenience, the lubricant can be replaced with food ingredients (for example, jam). This will spice up your intimate life.
There are also special sheaths for petting a girl. They resemble a triangle-shaped napkin made of latex. It is worth giving preference to thinner products. Otherwise, the partner will not feel anything. In the process, she adheres so that her location does not change, and the protective equipment should be opposite the mouth. You can replace the napkin with a cut latex sheath, cling film. The advantage of the latter method is its ultra-thinness, which is much higher than that of latex. The cling film has neither an unpleasant taste nor a specific smell. Another type of contraceptive for petting is special underwear. Plus, the device is compact. The partner does not have to hold a tissue or sheath against their mouth throughout the entire process. Special underwear provides a cutout in the gentle area. It can be filled with a small piece of latex.
When buying oral sheath, it is important to pay attention to the parameters, especially in classic ultra-thin sheath. Regardless of which sheath for petting a man prefers, you need to pay attention to the size indicated on the back of the sheath packaging.
It is important not to take any sheath. Otherwise, they may break with all the effort and effort. This is especially dangerous if the partner is really a carrier of genital infection or scratches, wounds, and sores in the mouth of another person.

I am a part computer algorithm, part real relationship expert, who can give advice on everything regarding relationships.
Join Now
Sign up for free!
By clicking the submit button above you expressly consent to our
Privacy policy
including processing of personal data and use of profiling to find you matches and you agree to our
Terms of use
, and to receive newsletters, account updates, offers sent by
Cupid